Bring a time period or historic era to life through a homeschool newspaper! This activity incorporates many styles of learning and modalities of intelligence, and will help to cement the concepts and events you are studying...
This is a fun and educational way to reinforce many concepts, including research, writing, art, and teamwork. (It can be done alone, but is more fun to complete as a group project!) Because there are so many different aspects to a newspaper, there is something perfect for every child's strength.
One of our favorite resources for completing the comparative history required in this project is the Timechart History of the World.
It begins with divine creation and traces the past up to to current events, following the entire history of mankind and showing what was happening concurrently around the world. It includes illustrations of many major events, discoveries and prominent people.
Above the Fold
Group project or individual?

For a group project, aim for a five to eight page paper. An individual might want to write a shorter daily bulletin of about two pages.

Decide on what era you'll be writing about -- typically the era you're studying in history.

For ancient times, the newspaper should focus on a particular era of history.

More modern studies may want to focus on a decade or singular year.

If you feel really up to the research challenge, you can create a newspaper that centers on the specific date of a singular event!

Scout out free resources to help create an authentic newspaper.

Historic Stock Images offers photographs that are free to download and use. It also contains an excellent lesson on copyright, public domain, and how to determine usability of an image.

Give your newspaper a catchy name, like the Medieval Messenger, Roman Record, or Viking Invader.
Choose Your By-Line
At an old-fashioned newspaper, each department was assigned a section of the room...there were desks with typewriters and phones, and various departments could yell across the room at each other...so no story was missed!

Assign each child a section of the newspaper to work on. Students working individually can choose a couple of sections to complete for the shorter daily bulletin.

Each section should contain four to six articles / pieces (eg, comic strips).

National News

Research the religious, political, and cultural news of the era. What are the important issues of the day? (eg, Romans might be concerned about the newly-formed religious group calling themselves Christians)

Find at least five major stories that were happening at the time, and write a story about each. (You may use Wikipedia, but use other sites to back up that information.)

Extra, Extra! Include a catchy headline!

International News

What else was happening in the world at the same time?

Find four to six other stories, from different parts of the world, to add to the international section of your newspaper.

Some eras, such as World War 2, will be easier to write for this section. If you are writing about ancient Mesopotamia, this section might be a bit thinner.

Use the world history timelines (BC and AD) or the Timechart History of the World for research.

Local News / Letter to the Editor

If your paper is modern, it might be based out of a big city. What is happening locally in this city during the era?

As long as there have been people on this earth, there have been opinionated people! Write a letter (or two) to the editor expressing your opinion about an event that occurred during this era. (eg, 'Should slavery be outlawed?' during the Civil War)

Bear in mind who could and could not express their opinion. Could a Roman slave write this type of letter?
Happenings

If you flip through your local newspaper, you'll see obituaries, marriage announcements, birth announcements, and the police round-up.

How old were people when they got married? Create a few happy unions!

Do some research on life expectancy and common causes of death, then complete the birth announcements and obituaries. What famous people were born during this era?

What were the common crimes of the day? Theft and murder have always been around, but in what form? Were there any famous criminals or crimes in this era? Get creative, and maybe a bit silly, while rounding up the usual suspects.

Finally, if your paper is from a war era, a common newspaper feature was the list of local war casualties. This is separate from the obituaries.

Puzzles / Comics

Newspapers include entertainment as well as news. This might take the form of puzzles, games, or comics and cartoons.

Make a crossword puzzle that features some of the vocabulary or people and places of the era. You can use the Teacher's Corner to make one for free.

Feature Columns

Similar to Ann Landers (an etiquette columnist), many newspapers carry syndicated columns that cover a topic such as health, sports, or advice.

Compose a feature column for each of those three categories that addresses the health issues and sports games of the day.

What problems might people face during this era? Answer a few letters from people seeking advice.

Advertising

The often-forgotten section, this is the newspaper's bread and butter...how it stays financially afloat.

Depending on the era, you might include help wanted ads (apprentices in the middle ages), for sale ads (chariots in the Roman era), or an ad seeking to find a runaway slave (Civil War era).

Find out what kinds of things people bought and sold. Was this an era where trade was more common? You might have an ad trading a goat for three chickens!
Start the Presses
Once everyone has completed their sections, use a tool such as Microsoft Publisher or the free online app Canva (magazine) to assemble your newspaper. Save as a PDF document, and you'll have the ability to print it out and assemble or distribute electronically. History, meet the future!
EXTRA, EXTRA!
SchoolhouseTeachers has a fantastic unit on studying the news with discernment! Reading the News is a reading instruction program that uses Associated Press news articles for reading material. The program is appropriate for middle school through adult students, and employs specific learning strategies that improve students' reading and spelling abilities. The learning strategies focus on repeated reading, timed reading, vocabulary, and comprehension. The strategies are built into audio learning and workbooks. The program challenges students to read at higher levels. They make progress in reading and develop the real-life skill of newspaper reading.
Know what's even better? It's included with your family membership! Every Subject. Every Grade.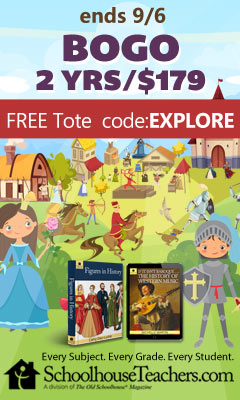 Looking for an open-and-go option? Take your homeschool to new heights with
SchoolhouseTeachers.com
! Explore the world with SchoolhouseTeachers.com!
Use code: EXPLORE at checkout
to pay only $179 for a two-year Ultimate Membership (reg. $224.97/yr). Explore the World Tote included. Certain restrictions apply.
Each unit has introductory text, which will give the student basic background information about the topic at hand.

There are photographs and illustrations, and we have also included primary documents when available.

After this text, there are featured videos, which augment the background information and help make the topic more accessible for more visual students.

You will also find a short list of reading books.

There are vocabulary words, places, and people to identify.

Reading comprehension, critical thinking questions, and writing assignments are included.

We add fun with hands-on activities and extra videos to watch that will bring the era to life.

Some units also have cooking projects.
These studies are directed toward upper grades students, but some have resources for younger students so that the whole family can work together. Our family has used unit studies as curriculum for many years, and we hope that your family will enjoy these, too!