Having bees is our son's hobby, and one that he takes seriously. He has purchased the bees, built the hives and frames, and tended to them himself (with help, if needed). Last year, he got his first honey harvest, and couldn't have been more excited!
We have been playing around with different ways to use honey, and this is one of the preferred methods...it's even replaced maple syrup on the breakfast table. We think you'll like it, too...
(The method for making blueberry infused honey is the same as any herbal infused honey.)
Ingredients
Directions
Place the blueberries and the cinnamon stick in a 1 cup mason jar.

Pour the raw honey over the berries and cinnamon. Stir together.

Place the lid tightly on the jar and allow the jar to sit in a warm spot for at least a week. Turn the jar over once a day.

Place your jar in hot water (if needed) to soften the honey, and then strain to remove the blueberries and cinnamon.

Enjoy over pancakes, waffles, or even as part of a salad dressing.
A few other ideas for making infused honey include:
**We are not doctors. Please research herbs before using them, especially if you have a medical condition.**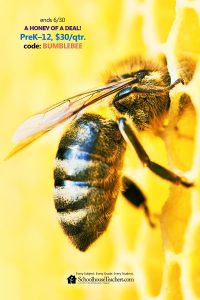 Keep the fun rolling throughout the summer with SchoolhouseTeachers! There is no need to slow down your children's education. Simply switch gears, giving them something to be excited about! Educate and entertain your kids at the same time by selecting their favorite electives during the summer months.
Starting JUNE 3RD, 2021 Use code: BUMBLEBEE during the SchoolhouseTeachers Bumblebee sale to pay only $30 (reg. $49.97) for an Ultimate Quarterly Membership, and the entire family will immediately receive access to all that SchoolhouseTeachers has to offer.