Past book reviews - at Goodreads
If you're seeking curriculum reviews, they're here!
Currently Reading...
The Sky Above Us (Sarah Sundin)
Numbed by grief and harboring shameful secrets, Lt. Adler Paxton ships to England with the US 357th Fighter Group in 1943. Determined to become an ace pilot, Adler battles the German Luftwaffe in treacherous dogfights in the skies over France as the Allies struggle for control of the air before the D-day invasion.
Violet Lindstrom wanted to be a missionary, but for now she serves in the American Red Cross, where she arranges entertainment for the men of the 357th in the Aeroclub on base and sets up programs for local children. Drawn to the mysterious Adler, she enlists his help with her work and urges him to reconnect with his family after a long estrangement.
Despite himself, Adler finds his defenses crumbling when it comes to Violet. But D-day draws near. And secrets can't stay buried forever.
Bestselling author Sarah Sundin returns readers to the shores of Normandy, this time in the air, as the second Paxton brother prepares to face the past--and the most fearsome battle of his life.
I discovered Sarah Sundin quite back accident a couple years ago, when I was looking for a good WW2 book...then I went back and read everything she'd written up to that point. She tends to write in trilogies, which works out nicely for my attention span. This book is the second in the Sunrise Over Normandy series, and I enjoyed it a lot! She has definitely done some research here, and there are small bits tucked into the book that prompted me to do my own research about the era. The airplane battle descriptions are excellent; they're so detailed that you'll feel you're in the cockpit! The love story is sweet and clean, and there is a lot of soul-searching on behalf of several characters, particularly Adler and Violet. If I could make one suggestion to Mrs. Sundin, it would be this -- when the trilogy ends, I want to know what happens to the characters down the road! We've become so invested in their lives, and the end of the trilogy normally wraps things up nicely for all three characters at that point, but I want to know what comes next.......speaking of which, my best guess for book three's title is "The Earth Beneath Us." We shall see......
The Curse of Misty Wayfair (Jaime Jo Wright)
Left at an orphanage as a child, Thea Reed vowed to find her mother someday. Now grown, her search takes her to Pleasant Valley, Wisconsin, in 1908. When clues lead her to a mental asylum, Thea uses her experience as a post-mortem photographer to gain access and assist groundskeeper Simeon Coyle in photographing the patients and uncovering the secrets within. However, she never expected her personal quest would reawaken the legend of Misty Wayfair, a murdered woman who allegedly haunts the area and whose appearance portends death.
A century later, Heidi Lane receives a troubling letter from her mother--who is battling dementia--compelling her to travel to Pleasant Valley for answers to her own questions of identity. When she catches sight of a ghostly woman who haunts the asylum ruins in the woods, the long-standing story of Misty Wayfair returns--and with it, Heidi's fear for her own life.
As two women across time seek answers about their identities and heritage, can they overcome the threat of the mysterious curse that has them inextricably intertwined?
This was a new author for me, but one I'll be keeping an eye out for….the book was SO creepy! It tackles the sensitive issue of mental health, and how it was insensitively handled a century ago, in a way that leaves the reader feeling emotionally exhausted by the story's end. Written with Christian undertones (but not preachy), it also focuses heavily on finding the purpose in one's life. I was a little creeped out by the postmortem photography, but know that it was a big deal back in the day. If I could offer the reader one piece of advice, it would be this: Don't make this the book you read before going to sleep! (FYI - This is a multiple timeline book, but it's woven together so that they flow naturally.)
Seasons of an Amish Garden (Amy Clipston)

Spring Is in the Air  As the young people of Bird-in-Hand, Pennsylvania, plant a garden in memory of their friend, Katie Ann begins to worry that her older brother, Ephraim, is dating her best friend. What if she somehow loses them both? But Christian, a new boy in the community, also works in the garden—and falling for him may be exactly the distraction, and lesson, that Katie Ann needs.





Home by Summer  Clara Hertzler is surprised when Jerry Petersheim, her old friend, comes to the garden to drop off his younger sister—especially because Jerry has been gone for years, and now seems to be living as an Englisher. As the friends get to know each other again, Clara pushes Jerry to examine why he abandoned his Amish beliefs. Will Clara help Jerry renew his faith in God, and will they find love beneath the summer sun?





The Fruits of Fall  Tena Speicher has come to live in Bird-in-Hand after her fiancé left her for an English woman. When a homeless veteran comes to the fruit stand one day and asks for food, Tena is not sure how to respond—but Wayne intervenes and offers to let him stay in the barn. Afraid to trust Englishers, Tena must learn, with Wayne's help, that everyone is a child of God and deserving of kindness.





Winter Blessings  Ephraim and Mandy have dated for some time and now have plans to marry. But after a series of unexpected events and misunderstandings, they wonder if they should go their separate ways. What will happen when their friends at the Amish garden conspire to bring them back together?



Beginning in one March, and following a group of friends through to the following March, this book watches as four couples go through transitions in each of the four seasons.  It is divided into four short stories, where each story focuses on a different couple, and introduces new situations that I haven't seen in Amish fiction before.  (Some had been touched on, but not made the central focus of the story.)  My favorite was summer, and the most surprising story was winter -- it was a most unusual love story scenario.  All in all, however, this is a set of stories that will make you sit back and examine yourself, your relationships, and your faith.
Love Where You Live (Shauna Pilgreen)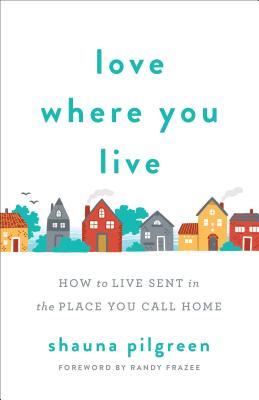 Despite being part of one of the most mobile societies in history, it's easy for us to feel stuck where we are. Whether because of a recent move or because we're still in the exact same place we've been for years, many of us just aren't where we thought we'd be or doing what we thought we'd be doing. Sometimes we may wonder if God knows what he's doing. How can this be part of his plan? With enthusiasm and contagious joy, Shauna Pilgreen assures readers that, yes, God does have a plan and a purpose for them--right where they are. In fact, he sent them there. She invites readers to "live sent," showing them how to see their surroundings with fresh eyes and renewed energy. Weaving her own remarkable story with biblical habits readers can incorporate into their daily routines, Pilgreen equips us to reach out into our communities with God's love, knowing that our efforts are never in vain.

I wanted to like this book; I liked the premise behind it, but just couldn't get it into. Maybe I'm too much of an introvert... I'm not really interested in getting to know my neighbors more. I believe more in helping out, if you're there at the time and needed, but not interjecting yourself into others' lives, because maybe they prefer their privacy, too. But maybe that's just a thing in the rural world. In an area where "prayer list" equates to 'fodder for gossip,' people tend to keep to themselves. If I stumble upon a neighbor in need, absolutely, help is given, but there are boundaries to be respected.



10 Choices Successful Couples Make (Ron Welch)
Whether they are engaged, newly married, or have been married for decades, couples will find that this book will transform their relationship. Most books on marriage rightly address communication and conflict as key issues, then advise readers on how to fight fair since conflict is an inevitable reality and cannot be avoided. But Dr. Ron Welch asks the provocative question, Is it? Is every marriage doomed to one conflict after another? Shouldn't we expect better than that? In this practical and encouraging book, Welch offers a far more positive approach to marriage, outlining 10 specific choices couples can make to minimize or even avoid conflict and increase joy. With his expert guidance, couples will learn how to employ proven strategies to - communicate accurately and positively - choose forgiveness over unforgiveness - understand their marriage type - and make decisions more effectively

If both parties are committed to a marriage, it can work. There will be tough times, sure, but they can be worked through with the insight and wisdom of others...and that's where this book comes into play. The author talks in real-world terms, rather than psychobabble, and is fairly direct with his approach. Each of the chapters focuses on a choice that partners make in marriage, such as the choice to communicate accurately and positively, the choice to forgive and be unselfish, or the choice to be intimate. There are ten choices featured in these chapters, along with exercises for realizing when you are making the choice, focusing on it, and learning to actively make the choices your heart wants. No matter what stage of marriage you are in, there is something to be learned here.
With this Pledge (Tamera Alexander)
Elizabeth "Lizzie" Clouston's quietly held principles oppose those of the Southern Cause--but when forty thousand soldiers converge on the fields of Franklin, Tennessee, the war demands an answer. The Carnton home, where she is governess, is converted into a Confederate hospital, and Lizzie is called upon to assist the military doctor with surgeries that determine life or death. Faced with the unimaginable, she must summon fortitude, even as she fears for the life of Towny, her fiancé and lifelong friend. As a young soldier lies dying in Lizzie's arms, she vows to relay his final words to his mother, but knows little more than the boy's first name. That same night, decorated Mississippi sharpshooter Captain Roland Ward Jones extracts a different promise from Lizzie: that she intervene should the surgeon decide to amputate his leg. Lizzie is nothing if not a woman of her word, earning the soldiers' respect as she tends to the wounded within Carnton's walls. None is more admiring than Captain Jones, who doesn't realize she is pledged to another. But as Lizzie's heart softens toward the Confederate captain, she discovers his moral ground is at odds with her own. Now torn between love, principles, and pledges made, she struggles to be true to her own heart while standing for what she knows is right--no matter the cost.
Having just finished, I think the one thing that really sticks with me the most about this book is the level of historical accuracy in the details. It even goes so far as to talk about the soldiers being read "A Christmas Carol," by Dickens, which is of course a minor, yet historically-accurate, detail that helps the reader to feel more involved in the story. I appreciate the stance that the author takes, too, in narrating from the Confederate perspective and pointing out just how many from the South were anti-slavery. It's a sentiment that seems to have been forgotten as history is being rewritten. Lizzie is your quintessential Southern lady...strong-willed, willing to work hard, a little dramatic, and full of heart. Her counterpart struggles with his own troubles and journey back to faith, and ultimately the prevail over the darkness together. This book will make the reader feel a wide range of emotions, and all of them passionately!
A Bound Heart (Laura Frantz)
Though Magnus MacLeish and Lark MacDougall grew up on the same castle grounds, Magnus is now laird of the great house and the Isle of Kerrera. Lark is but the keeper of his bees and the woman he is hoping will provide a tincture that might help his ailing wife conceive and bear him an heir. But when his wife dies suddenly, Magnus and Lark find themselves caught up in a whirlwind of accusations, expelled from their beloved island, and sold as indentured servants across the Atlantic. Yet even when all hope seems dashed against the rocky coastline of the Virginia colony, it may be that in this New World the two of them could make a new beginning--together.

The cover of this book is so beautiful, as are the author's descriptions of the places that the characters go, both in Scotland and in the new world of Virginia. The author does a great job with all of her descriptions, and you can tell that she put a lot of research into making it an authentically period piece. However, I just had a really hard time connecting to the story's characters. The love story aspect just didn't work for me, as they're almost never together! Geographically, they're in the same areas, but they're not together. The disconnect makes it difficult to connect with them, both individually and as a couple. That aside, I'm giving this story four stars because I felt that I learned a lot about this period - all of the 'little things' - that made it interesting. History lessons through literature are the way to go...